Our partner, Gauri Khanolkar has taken up the mantle to present our products in the upcoming new year special exhibition in Dombivli.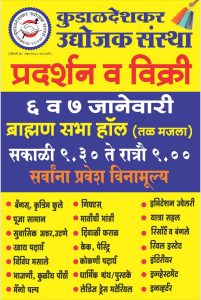 The event 'Pradarshan va Vikri' managed by Kudaldeshkar Udyogak Sanstha is to be held at Brahman Sabha Hall at Tilak Path Road in Dombivli East, Maharashtra on the 6th and 7th of January 2018 from 9.30 am to 9 pm. The exhibition provides a platform for Kudaldeshkars to showcase the richness of heritage, art, culinary and new age skills.
To celebrate the occasion, our special products including microwaveable Poha Kurdai, Appe Mix, Moong Bhaji Mix, Mod Alelya Gavhacha Chik shall be presented at the exhibition, alongside our ready to cook and traditional packaged food product line.
We would be glad to interact with customers and retailers on their queries on products.
---
Event Details:
Exhibition: Kudaldeshkar Udyojak Sanstha's 'Pradarshan va Vikri'
Venue: Brahman Sabha Hall, Tilak Road, Krishna Radha Society, Dombivli East, Dombivli, Maharashtra 421201 For Directions click here
Dates: 6th and 7th January 2018
Timings: 9.30 am to 9 pm
---
For availability of our products in other cities, please see here
For any enquiry on our participation, please write to us here
For any enquiry on Kudaldeshkar Udyojak Sanstha, please write here
For any enquiry on Jnana Prabhodini, Harali, please write here
---