Modak is the favourite sweet of Lord Ganapati, who is often referred to as Modakpriya. Traditionally cooked and savoured throughout the year, Modak finds it place of importance during the Ganapati festival. The Ganesh Chaturthi pooja concludes with a prasad of 21 Modaks offered to Lord Ganapati.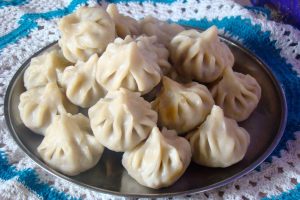 Modaks are generally made from rice flour shell while wheat flour also finds usage with some folk. Modaks made of rice flour shell are largely preferred during the festival of Ganesh Chaturthi, steamed and served teeming hot with a spoonful of traditional ghee
A Modak is considered great when it meets the four underlying principles of rich taste, aroma, texture and remaining soft for a long period. Of the two key aspects of a Modak; the Coconut-Jaggery filing and the Flour covering, the latter plays a key part in ensuring that the Modak fulfills all the four underlying principles to make a great Modak.
Shakuntala Food Products understands the importance of Modak and its four principles and has developed its Modak Pith to fulfill these.
Shakuntala Food Products' Modak Pith is made from the aromatic Ambemohar Rice. This rich ingredient in making of Modak pith ensures a rich aroma and fulfilling taste for the Modak.
Steamed Modaks made using our Modak Pith provide an excellent texture which ensures that the modak remains soft even 6 hours post steaming.
Tip: A pack of 250 grams of Shakuntala Food Products' Modak Pith is apt for 21 medium sized Modaks made with hand.
---
To view more details on the product, view here
To locate a reseller nearby, view here
---
Shoutout: A great video on cooking steamed Modaks from Ruchkar Mejwani.